Exceptional Customer Service & Quality Auto Repair
Your dealership alternative
Have you been looking for a place where you can get professional expert auto repairs as well as the respect and service you want? You've come to the right place. Whether your gas, diesel, or hybrid vehicle needs just a simple tune-up or a complete major over-haul, Vegas Valley Fleet & Auto treats you with honesty and integrity. We perform quality, professional repair & maintenance service, while treating you with the utmost of respect and courtesy you deserve. And we offer all of this along with fair and affordable prices.
ASE Certified Technicians / Expert Diagnosis / Quality Parts & Products
Vegas Valley Fleet & Auto's highly qualified and ASE Certified technicians use the latest in automotive technology equipment and are able to handle all major and minor auto repair services on foreign and domestic vehicles. No matter what you drive, we can handle it!
Keep up on your vehicles required maintenance
It is vitally important that your vehicle be serviced and maintained according to factory warranty recommendations in order to keep your warranty requirements fulfilled. It is also the best way to ensure safe and reliable transportation for you and your cargo. Vegas Valley Fleet & Auto will perform your WARRANTY required maintenance while maintaining your Factory Warranty requirements!
Let Vegas Valley Fleet & Auto help extend the life of your major investment. Call today and learn more about trusting us with your factory warranty maintenance
Services
List
Diesel Service and Repair
Transmission
Power Steering
Cooling System
Preventative Maintenance
Air Conditioning
Complete Diagnostic Services
Batteries
Tune ups
Engine Repair
Tire Sales and Service
Exhaust System
Suspension
Brake System
Alignment
And Much More!
Your Brake Experts in
Las Vegas, NV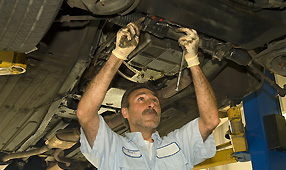 brakes are important
You want to make sure your vehicle stops when you step on your brake pedal. Keeping yourself and your passengers safe while driving down the road is a heavy responsibility. Don't let faulty brakes leave you in an unsafe predicament. Make sure your brakes are maintained and working reliably. At Vegas Valley Fleet & Auto, we are committed to keeping your brakes and all of your vehicle's systems in tip-top shape! Vegas Valley Fleet & Auto's ASE Certified technicians are continually training to master every aspect of automotive care as the industry evolves. Our technicians are committed to providing professional, friendly service to all of our customers. Call Vegas Valley Fleet & Auto for expert, reliable brake maintenance and repair to ensure safe and smooth driving.
Oil
Service
Critical to Your Vehicle's Longevity
An oil change can be particularly important if there have been long stretches of time between services - or if your engine's mileage is very high. As engine oil lubricates and protects your engine's internal components by reducing friction between the moving parts, it carries away dirt and metal particles. This helps to keep the engine clean and free from contaminants. Making sure your oil filter is changed at each oil change service is of vital importance as the filter cleans the oil as it passes through, collecting all that dirt and stopping it from clogging up the engine. In time, the filter will be full, which is where having a regular oil change comes in.